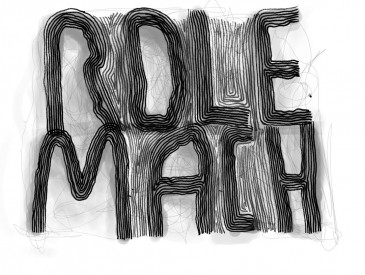 For years fans have been waiting for Role Mach to throw them a bone, but they keep getting tossed xylophones.
"We haven't put out a real album yet of our actual songs," said frontman Patrick Geraghty. "People are always complaining to me that we haven't put out any music that they want to listen to."
A staple of the live scene in Vancouver, their one album, 2009's orffesques and fugues is inspired by the lullaby-like compositions of Carl Orff, mostly features glockenspiel, wooden xylophone and tubular bells, and has very little in common with their explosive live performance. To rectify this, Geraghty plans to flood the market with Role Mach material in the coming months and years, including several EPs, seven-inch records and two fully-written albums. Now they just need to be recorded.
The first to come out will be a seven-inch of garage rock songs, or at least Geraghty's literature grad version of garage rock bands. He promises that it will be more representative of Role Mach's live shows than orffesques and fugues.
Geraghty is simultaneously prolific and a perfectionist. Besides leading Role Mach, he is also a member of the Greenbelt Collective. He has songs that he's been tweaking for six years, like a nihilistic Spaghetti Western ballad with 13 verses, influenced by Ennio Morricone.
"Some of these songs I've been working on since 2000 and I'm still retooling them," he said.
Conversely, he's recently been working on an EP due in the next couple months featuring only his vocals and conga drums. That concept was inspired by a scene from film noir director Allen Baron's Blast of Silence from the mid-'60s.
"I'm much more of a cinephile than an audiophile," Geraghty said. "I think I approach songwriting if not from a literary perspective than from a cinematic one."
His love of cinema has led him to put on film festivals in his studio space, including Thankless Cinema, where people submitted "the lamest and most radically inept films" into one god-awful night. Viewers were all given microphones to turn on when they couldn't stand a film any longer, creating a horrible feedback to drown it out. The film that was shut down the quickest won.
After playing in alt-rock bands in middle school and high school, Geraghty finally found a song-writing style that worked for him thanks to his time studying creative writing in England.
"I never really liked poetry very much, but I did like writing stories that kind of [had] a rhythm to them, so I just ended up turning them into songs," he said. "I realised the other day, I don't have a refrain in any of my songs."
Though the group has had a fluid lineup over the years, it has recently solidified with Geraghty on guitar and vocals, Jarrett Samson (of Shipyards) on bass, Tom Whalen (a.k.a. gr8-2000) on drums and a four-piece horn section comprised of Rich Sexton on alto sax, Aaron Cumming on tenor sax, Michelle Mayne on trumpet and Liz Horner on clarinet and vocals.
Though he's only 26, Geraghty has every intention of retiring after Role Mach has recorded and released their backlog of material, probably six years from now.
"Maybe New Guinea. I'd like to go to New Guinea," he said. "Then I'll just live there and then I'll die and that'll be it."
Their next show is April 24 at Grave Level before its tenants get evicted.