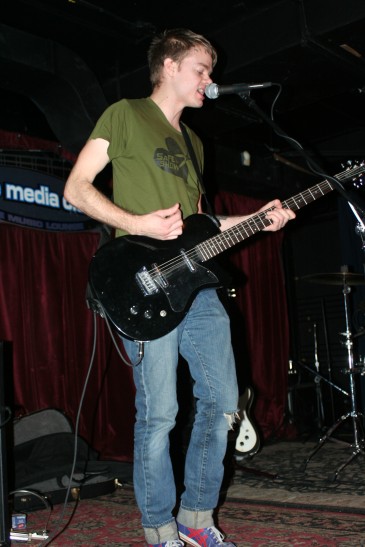 Apparently there were a few other shows happening on this night. Fans of British singer-songwriters and Ontarian roots-rock may have gotten their fill elsewhere, but they missed out on seeing what great talent exists within their own city. Bedrooms of the Nation, in their very first gig, warmed up the audience with some smooth indie rock befitting the best of CBC Radio 3. The group showcased some nice harmonies, winning over at least one female in attendance, who asked the band to "be my bedroom." [ed. What does that even mean?]
Next up was the band that won over Shindig back in 2008, Hermetic. The poppy post-punk duo played an energetic set laden with killer riffs, and even if the house wasn't packed, singer Eric Axen seemed thankful for the turnout given everything else that was going on. The group also managed to work in what may be my new favourite vocal accoutrement, harmonized whistling—overall their infectious sound was hard to deny.
Up third was the Lost Lovers Brigade with a set that sounded spot-on. Singer Elisha Rembold was pleased with the work the Media Club's soundman was doing, and it was noticeable to those in attendance. Rembold's alt-country croon is nothing short of breathtaking, placing her alongside stalwarts like Neko Case and Carolyn Mark. The rest of the band wasn't slouching either; the seasoned Vancouver vets performed vibrant accompaniment to Rembold's vocals, especially on the band's knockout finale. Nearly everyone in the room was floored by the furious, powerful closer.
Closing out the night was Vancouver's cutest band, Kidnap Kids. Though not veterans of the scene like the members of Lost Lovers Brigade, Kidnap Kids still know how to put on a great show. With light-hearted lyrics, an upbeat tempo and an enthusiastic audience, the Kids practically defined "fun." The performance wasn't without a hitch, though, as guitarist Alie Lynch had tuning problems towards the end of the set. The band soldiered on, though, and as Lynch quipped, "I think it got better." A clamouring audience kept the twee sensations going for an extra two songs after their finale, which led to some joyful dancing before the stage. It was clear that everyone present was having a good time with the talent being showcased—it's too bad more of the city wasn't in on it.