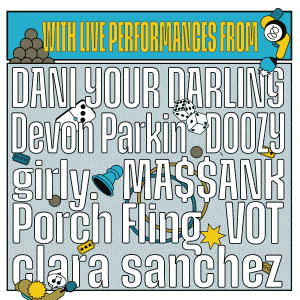 Hello 🙂 from those freaks at CiTR 101.9 fm!
On Sunday, September 3rd 2023, independent radio broadcaster CiTR 101.9 FM & Discorder Magazine continues its nearly two decade long tradition with Victory Square Block Party, the free, all-ages, all day, all good, all out, community concert.
In collaboration with Music Waste , CJSF 90.1 FM and Megaphone Magazine , the Block Party will bring Vancouverites near and far to spread out blankets and put up their loafers on the grassy hill of Victory Square Park to be entertained by some of Vancouver's newest and most notable independent musicians.
What's all this then? • Free concert held in Victory Square Park! A tradition as old as time! (or, the last 20 years) • Recorded for a live On-Air broadcast on CiTR 101.9 FM • Approximately 1,500 attendees • Featuring: Dani Your Darling, Devon Parkin, Doozy, Girly., Ma$$ank, Porch Fling, VOT, Clara Sanchez + more.
Proceeds support independent media and musicians. Grassy knoll 'opens' at 2:00 and admission is FREE.