Yesterday, Tuesday, November 29, was Night 7 of Shindig 33 and it was freaking weird. Pat's was pretty empty besides the bands, the judges, and the guests CJ's 45th birthday party. And that party was rowdy. They gave a lot of (deserved) love to the performing bands Carousel Scene, The Shit Talkers, and Viewmaster.
Following the longest soundcheck in living memory, Carousel Scene started the night with a knock-your-socks-off performance. I didn't expect their music to translate very well to an amateur live performance because it's so produced, but they were super tight and polished. The lead singer Ashley rolled around the stage for the entire set and anyone who does a solid Rihanna cover gets instant props.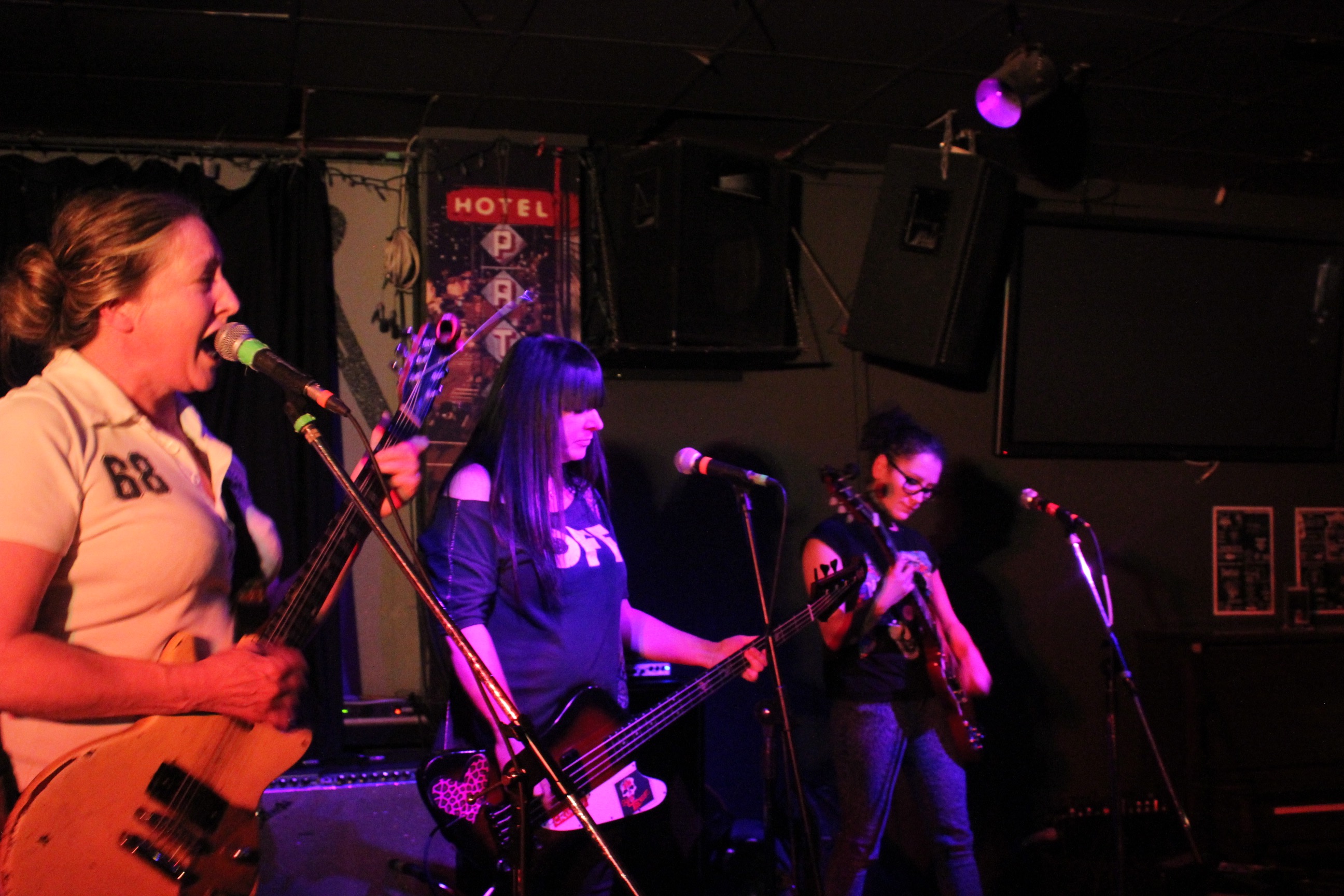 Vancouver's classic a girl classic punk band The Shit Talkers performed some classic, glass ceiling shattering tunes. They were the true definition of awesome. Just rad ladies rocking out as hard as they wanted. I was totally inspired.
Jokes+Fun Facts for Beers might have been the most memorable act of the night. There were a couple classic contributions—I had a sick fact about the word "bookkeeper"—and a few that were far out there. Poor Andy stood on stage watching the segment dissolve in front of him as CJ's increasingly intoxicated party took over the night and it was so so incredibly funny. A lot of it was in the delivery but each performance had so much passion in every set up and punch line. HIGHLIGHT: the flawless delivery of the joke where Tarzan is dismembered in the middle of the jungle and stitched back together with various animal parts. The joke itself was a little crude but I could not stop laughing.
Viewmaster caboosed the evening really excited for CJ. They used the intimacy to address the birthday and played several songs dedicated to him. It's hard to close a night where so few people were in the audience but Viewmaster performed until the very end.
And the winner was… Carousel Scene!
Make sure you come out next Tuesday, December 6, to Pat's Pub and Brewhouse for Shindig Night 8 with Little Sprout, Dead End Drive-In, and Cheap Flavor. Check out the Facebook event here.
-We would like to acknowledge that Shindig takes place on unceded Coast Salish Territory-