Discorder, that magazine from CiTR 101.9FM presents a showcase of emerging, Vancouver-based hip hop Friday, November 18 at the Media Club. The lineup is comprised of some of the most talked about and should-be-talked-about hip hop artists in Vancouver, including So Loki, Missy D, R.O.M.I., Something August, Spotty Josif, and Freeman Young. CiTR's Crimes & Treasons will be DJing and MCing. This event is also a fundraiser to support the printing and production of Discorder Magazine.
Speaking to local talent, Crimes & Treasons' Homeboy Jules states:
"Vancouver is home to rappers making that chemistry found in the forefront of rap. Vancouver artists are working hard to define a new influence and sound that has only been hinted at before."
In addition to providing a venue for local hip hop, this event is also a fundraiser to support Discorder's operations in print, on air, and online. Discorder is a free, monthly magazine produced with the support of volunteer contributors. Partial funds from the showcase will be put towards maintaining operations and printing costs.
"Vancouver hip hop and rap is underrepresented in local publications, Discorder included. Artists seem to get more press outside the Lower Mainland than they do here. We recognize that. This showcase is an opportunity to introduce our readership to some of the underground talent that surrounds us. This is a commitment to give it more representation, while also fundraising to help keep us in print."
–Discorder Editor-In-Chief Brit Bachmann
The fundraiser and hip hop showcase will be Friday, November 18 at the Media Club (695 Cambie Street) in Vancouver. Tickets are $10 in advance at brownpapertickets.com, or $15 at the door. Doors at 8pm. This event is 19+.
CiTR 101.9FM and Discorder Magazine acknowledge that this event is organized and takes place on unceded Indigenous land belonging to the Coast Salish peoples, including the territories of the xʷməθkwəy̓əm (Musqueam), Skwxwú7mesh (Squamish),Stó:lō and Səl̓ílwətaʔ/Selilwitulh (Tsleil-Waututh) Nations.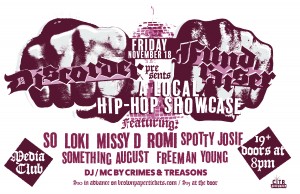 ABOUT THE ARTISTS
FREEMAN YOUNG | Freeman Young is a Canadian singer, songwriter, and rapper, and producer of Jamaican descent from Surrey, British Columbia. Following the release of his 2015 debut project, Young, he has been well-received amongst local listeners and is being regarded as an up-and-coming artist to keep on your radar. Since his debut release, Young has spent the better part of year performing at several shows and accompanying top acts such as OVO's Majid Jordan, Roy Wood$, and the Atlanta indie golden child Raury, to name a few.

MISSY D | Missy D is a bilingual femcee born and raised around the Motherland. She brings African culture to her music, with East African influence from Rwanda, West African influence from Cote d'Ivoire, and South African influence from Zimbabwe. She loves to mix old school and new school hip hop / rap / R&B and soul music.

R.O.M.I. | In 2013 R.O.M.I. (Rise Of My Inspiration) was created by Allan Smooth [formerly SoULBOi] and Futonious Don III. The group released their debut EP R.O.M.I. [I] to express their love for music, and to combine their styles into one project.

SO LOKI | So Loki is a Vancouver based alternative rap group comprised of Sam Lucia and Natura which flourished in early 2015. The duo Is known for their hard hitting live performances and timeless sound that's made them Vancouver's most sought after rap collective and leaders for western Canada's contemporary rap scene.

SOMETHING AUGUST | Comprised of Tee Krispil and Kerry Chambers, Something August is an experimental hip hop collaboration that embraces and channels a 3rd party force / alter ego named Father Realm. Their music conjures introspective, slow-tempo productions mixed with rap, singing and poetic interludes. 

SPOTTY JOSIF | Spotty Josif is a producer / songwriter based out of Surrey, BC. Inspired by '80s horror films, doo wop soul & pop, Spotty brings a new take on lyricism and eerie storytelling.

DJs CRIMES & TREASONS | Crimes & Treasons airs new and uncensored hip hop, R&B, rap and soul every Tuesday 9-11PM on CiTR 101.9FM. Regular DJs include The Homeboy Jules, Relly Rel$ and Horsepowar, and hosts Lucky Rich, Issa and Jamal Steeles. Listen to previous episodes and subscribe to their podcast at citr.ca/radio/crimes-and-treasons.
Special thank you to So Loki and Crimes & Treasons' Homeboy Jules for suggesting artists.
Media inquiries: editor.discorder@citr.ca