October 31 marks the Vimeo premiere of Telegraph Cove — a web series produced by Borrowtime Films, inspired by the folklore around shipwrecks in the Pacific Northwest.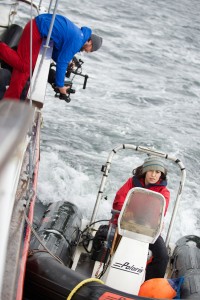 Telegraph Cove, British Columbia is the hometown of Darren Borrowman, writer-director of the series: "Growing up in a boardwalk village with a population of eight people, the winters were always quiet and a bit spooky. The wind would howl through the trees at night and shake our home. It felt a bit like something out of a Stephen King novel."
Telegraph Cove stars Savonna Spracklin as the lead, Anna. When her husband mysteriously goes missing on a private charter and the search is called off, Anna takes the investigation into her own hands.
This production had plenty of collaborators, including the current residents of Telegraph Cove, Laurel Borrowman (previous editor-in-chief of Discorder Magazine) recording sound, and Red Heartbreaker composing the score.
Check out the trailer below, and visit Borrowtime on Vimeo for full episodes.
October 31 — Episode 1: "October"
November 7 — Episode 2: "November"
November 14 — Episode 3: "December"
November 21 — "Behind the Scenes of Telegraph Cove"
Telegraph Cove – The Series Trailer from Borrowtime Films on Vimeo.
x