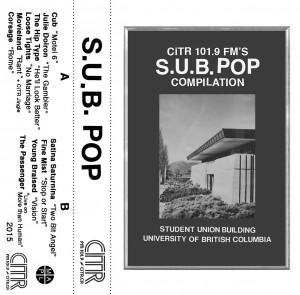 We're releasing a tape of live, in-studio performances off our podcasts and reel to reels, along with quirky ads and station IDs going back to the 1960's!
The tape is available to donors who gave $101.9 or more, and will be available to everybody on bandcamp on Saturday! Donors can pick up their cassettes at the party.
Thanks to all the musicians who donated their music!
Check out the track list:
Side A.
[Let's Get Digital] Fundrive 2015 promo (Jon Kew)
Cub "Motel 6" Oct 1, 1992 (Thunderbird Radio Hell)
[Sounds New in '62] 1962 UBC Radio promo
Julie Doiron "The Gambler" Mar 1, 2010 (Thunderbird Radio Hell)
[Druken Female Robot] 2012 station ID
The Hip Type "He'll Look Better" April 1, 1987 (Tape-a-Mania)
[Ugly Week] 1962 promo
Loose Tights "No Marriage" June 1, 2012 (LGBTQ Day)
[Random CiTR promo]
Movieland "Rant" [+ a CiTR jingle] March 12, 1992 (Thunderbird Radio Hell)
Corsage "Rome" July 30, 1982 (Live from the SUB Ballroom)
Side B.
[CiTR is the Best Club] 2014 Station Promo (Ryan Rosell)
Satina Saturnina "Two Bit Angel" April 29, 1999 (Thunderbird Radio Hell)
[Varsity Grill] 1963 ad
Fine Mist "Stop or Start" October 2, 2009 (24 Hours of Thunderbird Radio Hell)
[A Date That Will Live in Infamy] 1963 ad
Young Braised "Vision" May 27, 2014 (Crimes and Treasons)
[BBC ad]
The Passenger May 25, 2014 (More Than Human)
[Sign-off] 1962/63 UBC Radio (Brian Brenn)