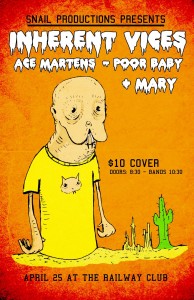 THIS SATURDAY, Snail Productions presents Inherent Vices with special guests Ace Martens (featuring CiTR's very own Music Director – Sarah Cordingley!), Poor Baby, and Mary LIVE at The Railway Club!
Inherent Vices (Not to be confused with the film "Inherent Vice") are a local band making huge waves in Vancouver's punk rock scene! Check out their heavy riffs and frenetic drums on Bandcamp.
Doors open at 8:30PM and cover is $10. Come rock out with some of CiTR's favourite bands!
Sponsored by CiTR Radio 101.9FM and Discorder Magazine