Fundrive is the time when we raise money for the station.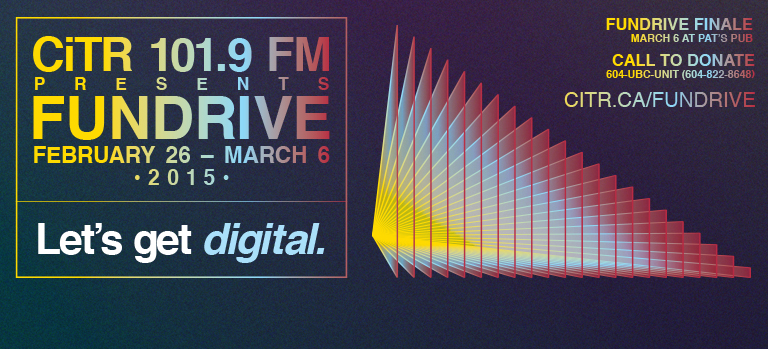 This year, we're aiming to raise $40,000 in pledges to support the programming you hear every day and help us get digital!
We're keen to preserve and highlight content from CiTR and Discorder's past and present, and help you access it all online. It's a treasure trove covering over sixty years of local music and culture we don't want to lose. Help us digitize our reel-to-reels and launch a new website!
Starting Thursday, February 26th at noon and ending Thursday, March 5th at 9 pm, we'll be asking people on the airwaves to support our radio station. People can donate by:
* calling 604-822-8648 (UBC-UNIT) to make a pledge and win swag and prizes
* visiting our online donation page –
* stopping by the station during the Fundrive
People who donate can choose to receive a tax receipt or CiTR swag + a partial tax receipt. Each program will also be giving out customized prize packs on-air.
We're celebrating the money raised and the hard work of our volunteers at the Fundrive Finale on Friday, March 6th at Pat's Pub, 403 Hastings St.
Share our facebook event!