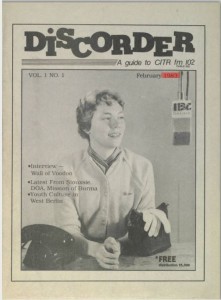 Indie music aficionados can now comb through a 30 year online archive of one of Vancouver's longest running magazines, Discorder, thanks to a collaboration between CiTR 101.9 FM Radio and UBC Library's Digitization Centre. The Library has completed digitization of the magazine's entire run, beginning from February 1983 to the present, providing a retrospective look at Vancouver's independent music and arts and culture scene.
"This project provided a great opportunity for UBC Library's digitization program to open doors to current and new fans of this important publication and to digitally preserve a key piece of Vancouver's cultural history, " says Bronwen Sprout, Head of Digital Programs and Services at the Library.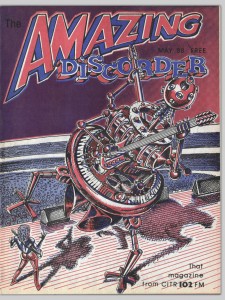 Dedicated to covering local music, arts and culture, Discorder – published by CiTR, UBC's student radio society – has chronicled the stories of bands forming and breaking up, venues opening and closing, musician collaborations and jams on different projects, reviews of long-forgotten albums, and shows that describe the grit and glory of Vancouver's music scene.
"If it's not online, it didn't happen," says Susanne Tabata, a CiTR alumni Susanne Tabata and the filmmaker behind Bloodied But Unbowed, a history of Vancouver's punk music scene. Tabata is aware of the work involved with scouring archives to tell a story about Vancouver's past and believes that the digitization of the historical archives will provide "cultural reference points for writers, journalists, musicians, historians, designers, and artists."
CiTR is currently embarking on its annual Fundrive, to raise $40,000 to launch a new website and continue digitizing its collection of reel-to-reels. This audio includes live performances of local bands throughout the 90's, including Bolero Lava, Corsage, The Hip Type, Maow, Destroyer, D.B.S. and more.