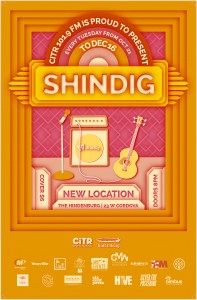 The first night of SHiNDiG was a huge success! Congrats to Pale Red for taking Night 1, you can catch them again at the semi-finals early next year.
In case you haven't heard, SHiNDiG is CiTR's 30-year-old "battle of the bands" competition. Since launching in the 1980's, over 800 bands have played the event to date. Prizes this year include free studio time, showcases at Music Waste and Canadian Music Week, a feature in the wonderful Discorder Magazine, and more!
Next Tuesday, October 28th promises to be another night of great music with the likes of Rainboard, Sam Tudor and Still Creek Murder on the bill, and DJ Duncan McHugh spinning tunes!
Rainboard is the noise rock project of Salmo duo Tom Reimer and Lyndon Schwiewe. Take a listen to their album The Midnight Slide via Bandcamp below!
Sam Tudor is an alt-folk singer-songwriter, originally from Big Lake and currently based in Vancouver. His second full-length album, The Modern New Year, officially comes out today! Check out the title track, "Modern New Year."
Still Creek Murder is a Vancouver rock duo comprised of Samuel Dick and Shay Hayashi. They released a new EP, To Shreds, in January 2014. Stream the five-track release below!
Come down to The Hindenburg (23 West Cordova) for some catchy tunes, cheap drinks, and free pool! CiTR DJs will spin after the bands. Cover is $6, and doors open at 8 PM. Plus, JOKES FOR BEER! For more information and to RSVP, visit the Facebook event page here.
Give us a follow over at @CiTRShindig, too!