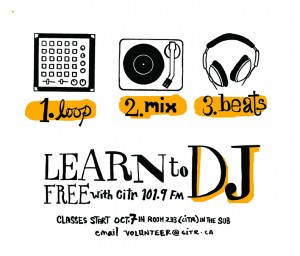 Learn how to DJ at CiTR. Dj 101.9 is free for students and CiTR members, no experience necessary and equipment is provided. Workshops are from 4- 8 pm on Tuesdays in the CiTR studios and divided into two formats:
Getting Started with Djing
We will look at how to drum beats & loops work, and how to mix different music together. No experience required!
Drop-in DJ Skills
Want to learn how to make your own tracks or mix tapes ? Have a question about how to get a sample sound a certain way? Interested in remixing a song you love? After you have come to the introductory getting started with Djing, please feel free to join us in the studio. We'll look at your projects and ideas! Practice on controllers, CDJs, turntables and tablets.
Please sign up at the station or e-mail volunteer@citr.ca. Here's the schedule:
Tuesday, Oct 7 – Getting Started with DJing 4 pm & 7 pm
Tuesday, Oct 14 – Getting Started with DJing 4 pm, Drop-in DJ Skills 7 pm
Saturday, Oct 18 – Getting Started with DJing 1 pm & 7 pm
Tuesday, Oct 21 – Drop-in DJ Skills 4 pm, Getting Started with DJing 7 pm
Tuesday, Oct 28 – Getting Started with DJing 4 pm, Drop-in DJ Skills 7 pm
Tuesday, Nov 4 – Drop-in DJ Skills 4 pm, Getting Started with DJing 4 pm