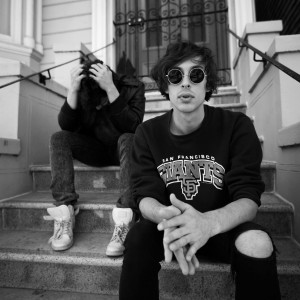 Next Wednesday, July 2nd, come out to the Biltmore Cabaret for three awesome acts! Electronic pop-duo Painted Palms are headlining while Imperial Mammoth and Jay Arner are amping up the crowds with their opening performances.
Painted Palms is a San Francisco based group composed of two cousins; Reese Donohue and Christopher Prudhomme. Reese and Christopher would create songs by sending snippets of audio tracks to each other online since they were separated by a dozen states from each other during their formative years as musicians.

Imperial Mammoth are based in Los Angeles, composed of members Leonard Jackson (Vocals, Guitar, Bass, Programming) and Laura Jane Scott (Vocals, Harp, Keys). Musically they are a mix of genres, with influences of electronic as well as traditional acoustic pop.
Jay Arner is an incredibly talented multi-instrumentalist from Vancouver. All the sounds you hear on his self-titled album are entirely his own creation.
Doors at 8:00pm, Show at 9:30pm
Buy Tickets Online right here
Also available at Red Cat Records and Zulu Records.
Sponsored by CiTR and Discorder Magazine