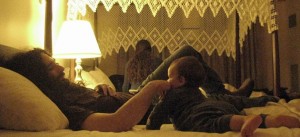 CiTR is proud to present the screening of Come Worry With Us! at this year's DOXA Documentary Film Festival. The film follows violinist Jessica Moss and singer/songwriter Efrim Menuck of Thee Silver Mt. Zion Memorial Orchestra through their decision to bring their toddler on tour throughout North America with the band. Set against the swelling strings, distorted guitar and impassioned performances of the band, are quiet moments of frank and open discussion with Jessica, Efrim, as well as their friends and family (including musician Julie Dorion) as they talk about being musicians and parents.
Artistic communities are often the place where political praxis is put to the test, and Come Worry With Us! is a poignant example of this fact. Thee Silver Mt. Zion Memorial Orchestra have been making protest folk, free jazz, and neo-classical music for over 15 years. Having intentionally opted out of the corporate music industry for the DIY alternative, their sound and political convictions are imbued with a punk rock ethos and aesthetic.
The screening is happening on Tuesday, May 6 at the Rio Theatre. Tickets are $15, and available online here.
For more information, visit the Come Worry With Us page on the Doxa Webite.