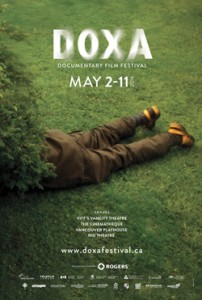 The DOXA Documentary Film Festival starts next week!
Presented by the Documentary Media Society, this ten-day festival is the largest documentary film festival in Western Canada, and features both Canadian and international films on a broad range of topics. From mountain gorillas to cartoon ponies and the men who love them, wild boars, roller derby grrrls, young agrarians and stick insects, all captured in their natural habitat, DOXA has it all. This year's festival features more than 90 films and 78 screenings, proving that documentary knows no bounds!
A wide range of festival pass and ticket options are available throughout the festival. Check out the festival ticket page for pricing information here.
Check out a feature on DOXA in this month's Discorder magazine!
For more information, check out the DOXA website and Facebook page.
Sponsored by CiTR, 101.9 FM!