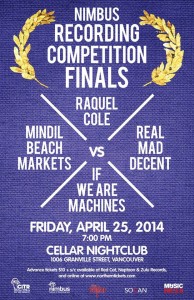 On Friday April 25, The Nimbus School of Recording Arts presents their Recording Competition Finals at the Cellar Nightclub!
Over the past several weeks, 173 acts from around the world have entered this year's Nimbus Recording Competition. They were adjudicated by Nimbus Music Business students who have chosen the follow four acts to perform, as finalists:
IF WE ARE MACHINES – A Vancouver based, Psychadelic-Indie Hard Rock
MINDIL BEACH MARKETS – A funk, hip-hop and reggae influenced band from Victoria
RAQUEL COLE – Singer songwriter with a distinctive country style hailing from Vernon, BC
REAL MAD DECENT – Young Vancouver rock band influenced by the Red Hot Chilli Peppers as well as funk and hip-hop
Cellar Nightclub – 1006 Granville St, Vancouver // Doors 7 PM
Advance Tickets $10 plus s/c at Neptoon, Red Cat, & Zulu Records, and available online here.
All ticket proceeds from the finals will be donated to Music Heals!
For more information, visit the Facebook event page here.
Sponsored by CiTR, 101.9 FM!