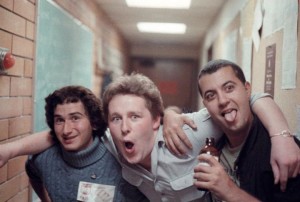 A 75-year-old radio station, like any other long-standing institution, must come to grips with the immutable reality that its alumni won't live forever. While every CITR alumnus or alumna has contributed to the historical fabric of the organization in his or her own way, many have shuffled off this mortal coil over the years without recognition of their passing. In the case of Ethan Minovitz, who passed away suddenly on February 1, 2013, at the age of 50, we cannot allow that to happen.
Ethan graduated from Eric Hamber Secondary School in 1980, having been an integral member of that school's highly successful Reach For the Top team. Upon his enrollment at UBC in 1981, Ethan joined CITR, where he immediately became a fixture in the newsroom. It was around this time that the station got its first FM licence.
If there was a typical CITR volunteer from that era, it wasn't Ethan. He displayed little or no interest in the music we played or the shows we sponsored. But everyone from that era remembers him: a small, intense, almost manic man with an oddball sense of humour, his own curious passions and a wellspring of trivia at his fingertips, not to mention a unique hairstyle.
His biggest passion by far at CITR was broadcasting the news. Before his newscasts, he was a sight to behold. A crackling buzzsaw of frenetic energy as he raced up and down the corridor between the newsroom and the broadcast studio preparing to go on air, he somehow managed to harness it all when the mic went on to deliver a quality newscast in that unmistakeable voice of his.
Before departing CITR for a long engagement as co-host of CFRO's Anthology of Jewish Music, and various journalistic endeavours, Ethan left his mark – in a brainstorming session circa 1983, he came up with the name Discorder for our program guide. More than 30 years later, that name endures.
After many years, we saw Ethan again in the fall of 2012, when several generations of student broadcasters gathered to celebrate 75 years of UBC student radio. Like most of us, he'd gained a few pounds and some grey hair, but had not lost his intensity, his passions (notably cartoon research and Jewish music) or his odd sense of humour. It was a shock to learn only months later that he was gone.
Though many have passed through the halls of CITR over the decades, there was, and will ever be, only one Ethan. RIP.
This tribute was written by Steve Robertson and Chris Dafoe.