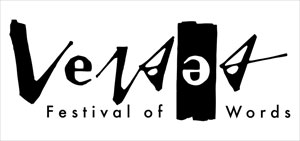 Verses Festival of Words starts this Saturday!
The mission of the Verses Festival of Words is to celebrate the transformative power of words – written, spoken or sung; to engage diverse groups in cutting-edge, live performances as both audience and participants; to present influential artists from both the oral and literary traditions, and to encourage the next generation of performers and writers.
What does that mean? It means eight days of slam poetry shows and competitions, poetry readings, literary soirées, spoken word workshops, multimedia performances and much, much more. These events will take place at venues clustered around East Vancouver's Commercial Drive, the heart of Vancouver's spoken word community. The full schedule for shows and events can be found online here.
If you're looking for a taste of what the festival will feature, tune in to CiTR next week!  Folk Oasis (Wednesdays 8-10PM) will feature interviews with Geoff Berner on April 2 and James Lamb on April 9, and  The Arts Report (Wednesdays 5-6:30PM) will feature interviews with Ikenna 'OpenSecret' Onyegbula, and Leah and Esther from Litany on April 9.
Check out a feature on the festival on Discorder's 'Textually Active' feature online here!
The Verses Festival of Words is a program of Vancouver Poetry House, a registered non-profit organization with charitable status since 2005.
For more information about the festival, check out their website, Facebook page and the Vancouver Poetry House twitter feed! 
Sponsored by CiTR, 101.9 FM!