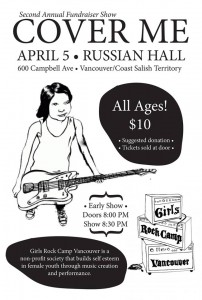 Join Girls Rock Camp Vancouver for their second annual evening of covers, COVER ME! The performers are all female-identified musicians from the local music scene sharing some of their favourite covers by female-musicians.
Girls Rock Camp Vancouver is a non-profit society, entirely run by volunteers, that builds self-esteem in female youth through music creation and performance. COVER ME is a fundraising show — all proceeds go directly to Girls Rock Camp Vancouver to help run and support our 2014 summer session!
COVER ME will be happening on Saturday April 5th from 8:30pm to 11:00pm at the Russian Hall. Tickets are 10$ at the door and any donations are greatly appreciated!
For more information, visit the Girls Rock Camp website and Facebook page.