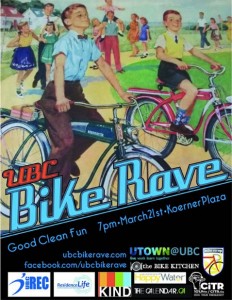 The BikeRave is back! On Friday March 21, come join in what will be UBC BikeRave's the second annual party on wheels. Participants are encouraged to come decked out in their craziest outfit, to bring their flashiest lights, and bedazzle their bike with glow sticks.
The Bike Rave will take place around UBC's campus for two hours, and will include some rad tunes to jam out to while biking as well as during pit-stops at iconic spots to rave.
The event starts at Koerner's plaza at 7:00pm. You must sign waivers (safety comes first) before joining the party. Look for t-shirts, glowsticks, prizes, and refreshments. At 7:30pm, we will unleash the kraken and begin biking. Get pumped!
Don't have a bike? Bring your roller blades, wheelies, scooters, rollerskis, unicycles, and boards. Get creative!
For more info, visit the UBC Bike Rave Facebook page.
Sponsored by CiTR, 101.9FM!