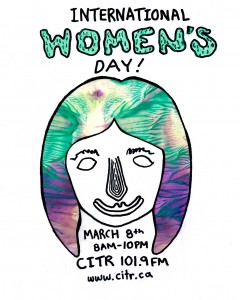 On Saturday, March 8, CiTR will be featuring programming from 8 AM – 10 PM that highlights female programmers, musicians, athletes, activists, organizations and more! Join us as we celebrate the role of women throughout the world with 14 hours (!!!) of vibrant, energetic and dynamic programming you won't hear anywhere else. Click through for the full schedule!
Artwork by Emily Walmsley. 
8 AM: Heather McCain hosts an all-female edition of The Saturday Edge, featuring world and roots music by tons of talented ladies.
10 AM: Ashley Bentley of the AMS Sexual Assault Support Centre and guests Jarrah Hodge and Madison Slobin discuss their experiences and opinions on the current state of women's representation in the media.
11 AM: Nellie Stark hosts an all-female edition of The Cat's Pajams!
12 PM: Rad documentary by Sarah Buchanan on Girls Rock Camp Vancouver.
1 PM: Interview with Meghan McCabe and Marina Classen, representatives from the F Word Conference. The F Word Conference happens May 3 at UBC, and is a student-led and directed conference on feminism, activism, and community hosted by the Gender, Race, Sexuality, and Social Justice Undergraduate Student Association at UBC (GRSJUSA).
1:30 PM: Re-broadcast of IWD 2013 programming! Young James aka Jamie Kendal-Ward performs live and chats with the lovely Maegan Thomas, about her female identification.
2 PM: Eleanor Wearing hosts an all-female 'Student Special' featuring a live performance by UBC student Olivia Madden, as well as a feature on influential female musicians from the past, present and future.
3:00 PM: Interview with the UBC Womyn's Center.
3:30 PM: Interview with Cicely Blain, student coordinator of the UBC Equity Ambassadors about the Celebrating Women at UBC project.
4:00 PM: Interview with Indi Keith, coordinator of the I Am A Feminist day at UBC. "I Am A Feminist" day takes place on March 10th and will feature both a passive visibility campaign (with shirts, buttons, and social media presence) and an interactive engagement fair.
5:00 PM: News 101 directors Morgan Yee and Nina K host a special FEMCON edition of the news program.
6:30 PM: CiTR sports representative Jason Wang will report from the season-ending provincial basketball tournament for BC high school girls' teams in Langley.
7:00 PM: Honouring the Missing Women of the Downtown Eastside & Closing Remarks by Sara Lapsley, director of the Arts Report. This feature will raise awareness about the ongoing issue of missing women and highlight the importance of creating a violence-free world that is safe for women. Sara will also be offering some closing remarks that will inspire our collective journey toward an inclusive world of equal rights for all.
8:15 PM: Live in-studio performance with local all girls band SHE DREAMS IN COLOUR! 
9:15 PM: Live in-studio performance with local talented lady Jody Glenham!