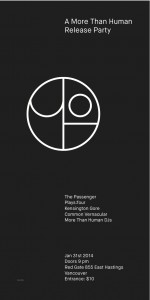 The excellent electronic/experimental Vancouver record label More Than Human is having a party at Red Gate next friday to celebrate its first 4 releases.
The party will feature performances by Kensington Gore, The Passenger, Common Vernacular and Plays:four. Intermission music will be provided by the nameless curators of More Than Human, who are promising "strange detours into the worlds of cosmic beats, long forgotten soundtracks and dusty library music."
Entrance: $10 | Doors: 9PM | Location: Red Gate 855 East Hastings Street Vancouver
Visit the More Than Human website and Facebook page for more information.