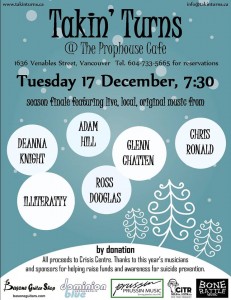 On Tuesday, December 17, Takin' Turns will wrap up the 2013 season with some of the year's favourite musical acts.
FEATURING PERFORMANCES BY: Illiteratty, Ross Douglas, Deanna Knight & Adam Hill
Come join hosts Glenn Chatten & Chris Ronald for an unforgettable evening of songs and stories. Admission is by generous donation with all proceeds going to Crisis Centre.
Thanks to this year's musicians and the support of local business, Takin' Turns has raised $900 in aid of suicide prevention. With the finale, Takin' Turns hopes to continue their support of live, original music and to achieve their fundraising goal of $1000, which will be presented to Crisis Centre at the show.
The finale will take place at The Prophouse, 1636 Venables Street, East Vancouver at 7:30 PM.
For more information, check out Takin' Turns on Facebook or visit their website.
Sponsored by CiTR, 101.9 FM!