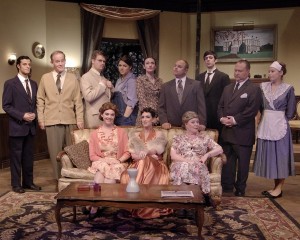 Arts Reporter Rohit Joseph saw The Hollow on Saturday, September 28th. It's a remount of their first ever production in 1963!
Theatre geeks and murder mystery-lovers alike will find reason to rejoice this month. Metro Theatre is putting on a production of Agatha Christie's The Hollow which opened on September 28th and will be running till October 26th, from Thursdays to Saturdays every week. I checked out the opening night performance to see for myself whether Metro's version lived up to the intense standards of an Agatha Christie work.
The first half of the first act is slow. This is to be expected for those acquainted with Agatha Christie's stories but nonetheless, the introduction of the play involves a lot of establishing characters and unraveling their relationships with one another before things really get going. Once all of the necessary introductions take place, the tension of who is going to get murdered starts to kick in and then things start to get more interesting. The overlapping love triangles and scandals start to escalate until the inevitable death takes place. The Hollow is at its strongest once the pivotal murder scene occurs, and as a result, I found myself actively engaged and constantly guessing who the prime suspect is.
What is important to note about this entire production, is that all the actors and stage crew are volunteers. In spite of this fact, Metro Theatre has assembled an incredible ensemble of actors that prove the term "amateur" is a relative one. Some of the standout performances include Joshua Knight as Dr. Christow, Alison Schamberger as the eccentric Lucy Angkatell, and Megan Couch as Henrietta Angkatell. There wasn't a weak link among the actors and that is incredible considering the size of the cast.
Listen to Rohit review The Hollow on this week's Arts Report, Wed Oct 2nd 5pm.
If you are interested in seeing some great local theatre and for a good price, then definitely come down on a Thursday since two tickets only cost $32 compared to the regular price of $25. Tickets are available through Eventbrite or by phoning 604-266-7191. For more information and a calendar of upcoming productions, check out www.metrotheatre.com.