Arts Reporter and host of the Beaver Hour aka Rossin, Emma, gives her account of New Forms '13.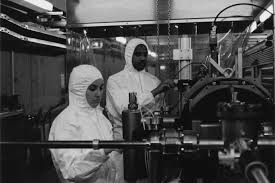 This year the prospect of witnessing Dopplereffekt, who played Friday, excited me the most. Gerald Donald, one of the two members, previously played in a project called Drexciya which is my favourite music group of all time. Think of the dopeness of Miami Bass with the sensibilities of the darkest of technos. Boom. You've just described anything Gerald Donald touches. They are not your standard electronic music performers. They have a strange stage play going on. They did not touch their instruments much at all. Gerald Donald counted time with his hand like a composer, while Michaela To Nhan Berte stood with her hands in front of her. They wore plain white masks. Their visuals were blueprints of the Hadron Collider, space stations and other historical, technological imagery. According to my friends who were setting up during the day, Dopplereffekt got into a massive fight which took place from opposite ends of the room. Witnesses noted that the fight seemed like an intentional performance. They had my favourite music artist prepared visuals of the festival. 
Saturday night, at the eatART stage, was a hardcore trip into an acid cyclone that, when the music ended, had people stumbling out wondering what had just happened to them. Evy Jane were the first to perform, not acid obviously, and it's always nice to hear them. I appreciate R&B and they are very much true to the soul of the genre, and they bring a lot of Vancouver to their music. Their tunes are dark, moody and their lyrics reflect zealous over-thinking. PS. They have a new album in the works.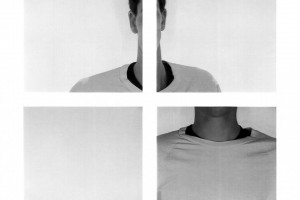 Kaseem Mosse, arranging his acid live, tightly expressed the meaning of the genre. Next up was Delroy Edwards, who's not known for acid. Why he spun only acid techno for what seemed like hours (in a good way) I don't know. Maybe he heard how Vancouver is currently crazy for it; maybe he got contact high and picked up on it when he arrived in Vancouver. Please note: this genre of music has a way of manipulating the perception of time. Delroy mastered the presentation of the genre; we danced our asses off. Vancouver doesn't often respond appropriately to great dance music, but this wasn't a problem Saturday. When the music was over, everyone was stunned. Walking seemed so trivial after moving our bodies in such fantastic and creative ways. 
The festival curators did a great job of picking visual artists, who came from Australia, the UK, continental Europe, Rhode Island and Chicago and of course, amazing young visual artists from Vancouver. Some of the groovier electronic music scenes in Vancouver have heavy visual components, drawing on the talent and derangement of Vancouver's multitudinous Emily Carr graduates. Aesthetics is something at which Vancouverites excel, despite our city's extremely pathetic, uninspired and stifling architecture. New Forms's arts exhibitions did a good job commenting on this. Which brings me to the Hypercube.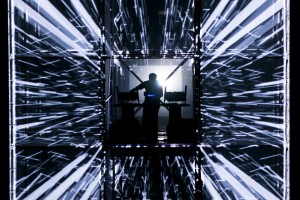 1024's Hypercube was super techno, a structure made of scaffolding, sheer white fabric walls and multiple oscillating search lights. Jim of the Rainbow Connection explained to me about the Hypercube and the fourth dimension while we were standing in it but I was distracted by the Dubstep played by the Hypercube DJs. The write up noted the cube was speaking to condo development in Vancouver. Which is why I found the kids cuddling in it particularly hilarious. dubstep, a light show and a cuddle puddle. How critical. [Ed's note: Perhaps if we cuddled and dubstepped more and build less condos we'd be a happier city.]
What I liked most about the festival was seeing all the happy people; at New Forms a scene emerges of people who really like techno and what this genre represents. Techno is music concerned with the future and unity. Like all styles of music designed to make us dance, it brings people together. Its earnestness (nerdiness) appeals to real people, who are real in their desire to go out to a music show to listen to music, not see and be seen. (Except for the people who were talking all through Evy Jane's set, you were all super annoying and I doubt that your conversations were as sonically relevant as Evy Jane's new music but whatever.) New Forms is a festival that represents a culture in Vancouver of young, smart and technologically inclined people.
Thank you to the New Forms architects and volunteers for another spectacular festival. Thank you for making something we can look forward to in coming years.