from the New Forms '13 site (excerpts): grunt gallery and New Forms Festival present Dynamo Lines, a video, sound and live performance by Josephin Böttger and Sergej Tolksdorf, and Trapez with the support of the Surrey Urban Screen.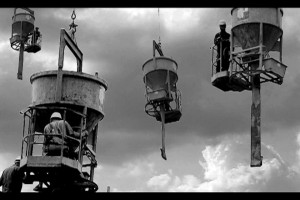 Media and installation artist Josephin Böttger presents a new work entitled Dynamo Lines, which looks at the fragmentation of cityscapes caused by social constructs, urban development, traffic, lights and movement.
Working with musician Sergej Tolksdorf, Böttger's video installation includes footage of actors standing on the edge of a building in the foreground, overlooking busy highway arteries.
The live performance uses an archive of sounds that sync with the projections, along with compositions made for particular scenes. The installation and live performance will take place at grunt gallery's Media Lab on Thursday September 12, 2013.
The Arts Report took a statement from Böttger and Tolksdorf on their favourite urban spaces, and what's coming up next for the two.
Read the complete description of the installation on the New Forms '13 site.
What is your favourite/most inspiring urban space and why?
While evolving the Dynamo Lines project we focused on heavy frequented streets in Hamburg and Berlin, traffic jams on highways and the quick changes of urban spaces due to rapidly constructed buildings.
The striking inadequacy between building office towers and home building is one of the main issues considering the urban development of Hamburg.
While many office buildings stay empty after construction, a lot of people live out of town because of the lack of affordable apartments and sit in traffic jams to get to their jobs.
A constant noisy traffic density dominates the atmosphere all across the city.
Dynamo Lines is inspired by this occurrence.
Since we've arrived in Vancouver, we happen to see that this city is dealing with similar issues concerning the quick change of the cityscape and an increasing traffic.
What's coming next?
The parallel work on musical parts, texts and cinematic observations of building sites carryed us to the form of presentation, where we interact live with the video.
We will continue with this way of creative work.
Particularly with examinations of foreign cities who may face comparabel situations.
Vancouver gives us many ideas for our next project.