Today is the last day of the Vancouver Latin Film Festival and at 1pm you get a second chance to see one of CiTR's Sponsored Films Las mariposas de Sadourní or Sadouri's Butterflies.
[field name = iframe]
The Arts Report saw the film last week, and was entranced with it's darkly humourous and touching portrayal of the choices available to one very passionate, emotionally and physically stunted individual.
Sadouri's Butterflies is languid to say the least, but gripping and beautiful; if you aren't interested in sly, lush symbolism, or bemusement, then this might not be the film for you. The film noir aesthetic, crazy characters, and melodramatic romance could be distracting, but they come together in something very indulgent.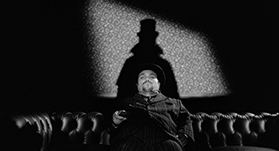 While all the performances are affecting, Alejandro Sergi as Dr. Seamonkey steals the show, down to the very last scenes. Ultimately, his lack of knowledge of what's going on – and his lack of concern, relish even, in that knowledge – allows the audience to let go of their need to know, so they too can relish in director Darío Nardi's absurdities.
The film, Nardi's first directorial outing, has also screened at Seattle and Palm Springs Film Festivals.
Sardourni's Butterflies played to  plays at 1pm at Pacific Cinematheque. Check out all the remaining films at www.vlaff.org.