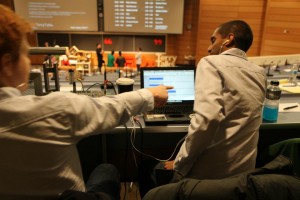 The Terry Project Podcast had a fun year. We shared UBC stories, debated euthanasia, examined indigenous rights and title, looked at post-Gaddafi Libya, analyzed micro-finance in India, and even explored the weird world of "pick up artists." But this is only the beginning. We are radically expanding in the coming school year.
What is the Terry Project Podcast?
The Terry Project Podcast is a documentary radio series that explores how big ideas affect real people's lives. Each week, UBC students Sam Fenn and Gordon Katic set out to solve a genuine mystery in the sciences and humanities by speaking to experts and sleuthing around Vancouver. Results vary. Listen to past shows!
Position: Assistant to the Technical Producer
We're looking for someone to assist the Technical Producer to record and edit interviews and compile each weekly program. Basic knowledge of applicable editing software is preferred, but a willingness to learn is sufficient. We are looking for 1-2 enthusiastic volunteers who will be available for a 3-4 hour time commitment each week, starting in September. More details here!