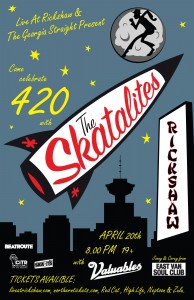 This 4:20 make sure you head down to the Rickshaw Theatre for an awesome night of Reggae and Ska Music featuring Jamaican pioneers The Skatalites with guests The Valuables and Jonny and Corey from East Van Soul Club.
Recognized as playing a major part in popularizing ska music in the 1960s, The Skatalites consisted of some of the best musicians Jamaica has ever seen and got their start playing with the likes of Bob Marley, Toots & the Maytals & Jimmy Cliff. Their music has had a long-lasting impact, helping to cement Ska's place on the music landscape.
Alongside the Skatalites will be the classic sounds, the retro tones, and the vintage look of The Valuables and Jonny & Corey of East Van Soul Club who will be playing original ska, rocksteady, and reggae 45s.
Tickets are available right now for only $22 at liveatrickshaw.com, Red Cat, Neptoon and Vinyl Records.
Saturday, April 20th, head down to the Rickshaw for an evening of good vibrations taken straight from Jamaica!