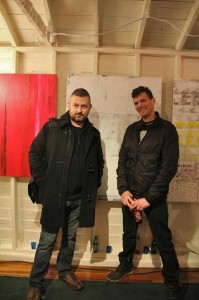 Tonight on the Arts Report!
Gareth Moses (left in the pic) of one of my fave CiTR programs More Than Human 7pm Sundays, as well as Fantastic Cat productions, will be on with reps from his first art show which will be having an encore this Friday put on by the shack (art) collective which has some interesting guidelines for work it promotes.
Plus, we get some well-polished promo prose from Daniel Chai of the Fictionals after his latest show of Pop Up Comedy at Cafe Deux Soleils.
And we'll check in with Screaming Weenie Productions who has currently gone through a change to become Frank Theatre Company. But why?
That and more, Wed at 5pm tonight – Like us on Facebook and follow @CiTR_ArtsReport on Twitter!