It's a big month for everybody's favorite EDM audio/visual experience Tropical Love Connection! We've been going strong for a full year and are so grateful for all the seapunx who come to our weekly splashdown and party like its the dawn of the internet era. Read on for the APRIL rundown, including our epic ONE YEAR ANNIVERSARY PARTY (2AM extension!). More info and links about our night: TLC @ Tumblr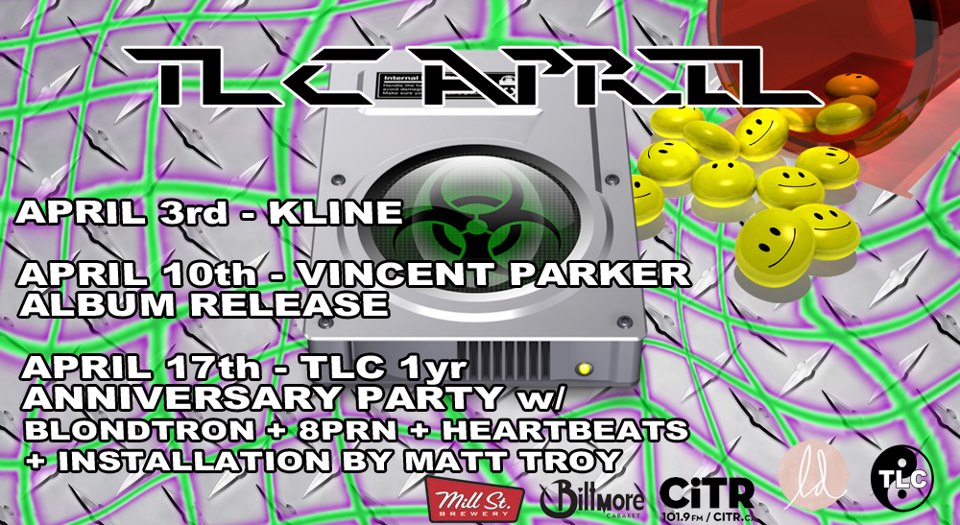 Apr 3 ~ KLINE
Kline's deep sensation audio experience graces airwaves locally and internationally – he's a resident performer in the CHAPEL SOUND project and also had material played by Skream and Benga on BBC Radio 1. Come early for Talent Time and get 2 fun times for the price of one!
Apr 10 ~ VINCENT PARKER
We're super pleased to have this local bass / noise / #rare-groove artist releasing his brand new album at our humble cave rave! A Historical event! Do not sleep on this one
April 17 ~ 1 YEAR ANNIVERSARY
Tonight is TLC's FIRST BIRTHDAY – and we're bringing back some of our favorite guests for a 2am closer, so we can go ALL NITE LONG!! Bongtron, Heartbeat(s), and 8 P R N are bringing the noise and Matt Troy is bringing the augmented reality visual installation! WTF? come and find out!
Further Reading / Required Listening:
facebook
tumblr
soundcloud
twitter