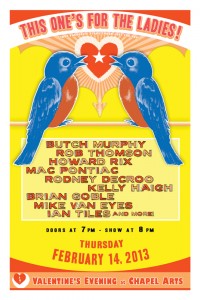 Chapel Arts is having a very special event for Valentine's Day called "This One's for the Ladies!"
with many of Vancouver's best rock singers "crooning" love songs.
THURSDAY, FEB. 14th, 2013
Featured performers:
BUTCH MURPHY (Bughouse 5)
HOWARD RIX (Trespassers)
IAN TILES (Pointed Sticks)
ROB THOMSON (Hard Rock Miners)
BRIAN GOBLE (Subhumans/DOA)
MAC PONTIAC
KELLY HAIGH (Kelly Haigh!)
RODNEY DECROO
MIKE VAN EYES
Doors at 7pm – Show at 8pm
Cover only $7
See you there!