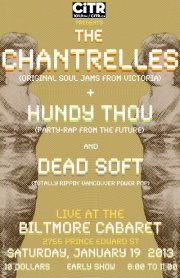 Victoria's favourite Soul Music practitioners THE CHANTRELLES will be bringing the party to The Biltmore Cabaret on Jan 19th, so get ready to shake! They will be joined by HUNDY THOU, throwing down their heady futurist party-rap for your head-nodding or rump-shaking enjoyment. Kicking the night off with a grunge/pop bang will be Vancouver's own DEAD SOFT.
10 bucks to get in!
Doors are at 7:30 and the show will be over at 11:00PM sharp to make way for the Biltmore's famous Glory Days dance party. Alright?
Alright!
Sponsored by CiTR 101.9FM.