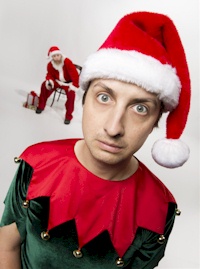 On Nov 28, Laurren Iacobellis attend The Santaland Diaries at the Arts Club Theatre Company's Revue stage.

Fans of David Sedaris might be surprised by the Arts Club Theatre's production of The Santaland Diaries, but fans of Vancouver actor Ryan Beil certainly won't be. Don't go to the show expecting the monotone, wry delivery of a David Sedaris reading. This performance is fast, sweaty and LOUD. Beil's vocal acrobatics and priceless expressions keep the story animated throughout. Under the direction of another Vancouver favourite, John Murphy, Beil manoeuvres around the small stage, keeping the audience rapt with attention for 75 consecutive minutes. The 30-something year old male (known only as Snowball the elf), enters in a woolly sweater and corduroy pants, an outfit that gives the first part of the show the feeling of Woody Allen's New York of the nineties. Rest assured, you see him in the elf suit before the night is over – an image which was worth the ticket price.


Snowball is neurotic and depressed; but, like author Sedaris, he is also deeply witty and uncompromising in his stark observations of human behaviour. Snowball relays his struggles with finding work in New York city after a recession – including a horrendous interview where he was one of hundreds lining up for an entry level job at UPS. This is the kind of humiliating experience most recent graduates and proud members of the boomerang generation can relate to. Beil's character finally lands a job as an elf at Macy's department store, but his realty is pretty dismal next to the shiny city of dreams he imagines, where he rubs elbows with soap-opera stars and becomes their favourite writer. These dreams come to life thanks to the versatile set and lighting by Ted Roberts. Although parts of the set were too clunky for Beil to handle alone, it was versatile, evoking everything from a Macy's classroom, to a posh lounge, to the gentle beating of the "good Santa's" heart. The design was completed with fitting projections by Candelario Andrade, stellar costuming by Sydney Cavanagh, ironic song choices and amusing sound effects by William Moysey and a seamlessly managed stage by Peter Jotkus.
Tender moments aside, this show is not for children, the faint of heart, or the politically correct. The rest of us will be having a good time laughing along with the best one man anti-Christmas show in Vancouver this season. The Santaland Diaries: True Confessions of an Elf based on the writing of David Sedaris, adapted by Joe Mantello and starring Ryan Beil plays at the Revue stage on Granville Island until December 29.