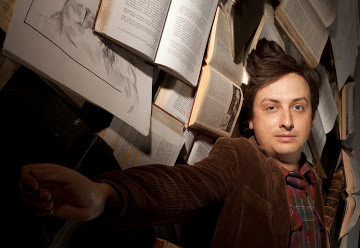 Tonight on the Arts Report, we'll have Jessie and Canadian Comedy Award Winner Ryan Beil, who will have to deal with AD Maegan trying to be funny.
But first, Arts Reporter Rohit Joseph talks to Brian Anderson of the Vancouver Theatre Sports League about their most recent show Pants on Fire.
And Arts Reporter (this is a thing  we are trying, I like it so far) Adam Smylie attended Debts by Itsazoo Productions, and spoke to Mack Gordon, director about the show. Edgar Allan Poe meets hair metal? Check out the trailer to see how that works. Debts runs through Nov 3rd.
We also got up to a lot this past week: like Circuit Cabaret, Vancouver New Music Festival 2012, including interviews with Andrew Scott, Nicolas Collins and soon to be posted, Julie Gendron and Emma Hendrix.
And we went to the Writers Festival: this year's Vancouver Writers Fest Correspondent Ariel Fournier reviews fest participant Annabel Lyon's recent work The Sweet Girl. You can check out her reviews of the events she visited after the jump.
Listen to the Arts Report Weds 5pm to 6pm. Want to become an Arts Reporter? Email volunteer@citr.ca to become a member of CiTR.
JUMP.
Poets are misunderstood (or so poets tell us).  Each year the Poetry Bash at the Vancouver Writers Fest gets a little smaller and this year was the first time they held the event exclusively in the morning. Despite being relegated to the a.m. slot, the venue was packed and people made, as the host put it, "little poetry noises" to express their appreciation for the readings. It was mostly a contingent of familiar and fantastic B.C. poets with one international addition: the charming Ekiwah Adler-Beléndez who presented a magical introspective style punctuated by his unique humour.
Cory Doctorow in Conversation with William Gibson
It's rare to see a conversation careen so spectacularly adrift in such a formal setting. What started out as William Gibson interviewing Cory Doctorow quickly shifted into Cory Doctorow interviewing William Gibson then turned into talk of hotel bathrooms, guns, 3D printing of guns, writing even when you hate writing, assuming fake identities and an optimistic outlook on the impending apocalypse.  I don't think I was bored for a moment and Doctorow's eloquent enthusiasm was perfectly offset by Gibson's measured and funny thoughtfulness.
Zakes Mda in Conversation with David Chariandy
Zakes Mda discussed and read from his memoirs Sometimes There is a Void. One of South Africa's most prominent writers, Mda was humble and gave a very moving account of the anti-apartheid struggle and South Africa since that time. The conversation was slightly stunted at times but his recollections were engrossing. He read from one of my favourite passages during the writers fest featuring an interection between him and another teenage soldier in preparation for an assassination that was not only heartbreaking, but incisively captured the absurdity adults forcing children into battle.
This event was fantastic, largely because I discovered Dennis Lee was the writer for Labyrinth. Labyrinth! [Eds note: Labyrinth!] Patrick Lane's wife, Lorna Crozier, read an old-age erotic poem and the stories of drunken adventures and poetry nicely rounded out the Writers Fest. It was essentially a B.C. writers love-in, with Margaret Atwood flown in from Ontario for good measure. I think as a Canadian, Margaret Atwood's harsh voice has been permanently burned into my brain and to see her, as well as hear her implying she had a one-night stand with Patrick Lane was too good. Margaret, you slut. A great way to end the fest! – Ariel Fournier