The CiTR Alumni Weekend is coming up November 16th-18th! It's the 75th anniversary of the Radio Society, 30 years on FM, and 30 years of Discorder! For more info and to register for events, click here. Join our Alumni Facebook group.
We found some original poster and newsletter designs (back when we had to glue pieces of paper together and Xerox them!) tucked away at the station. The two here are from a time when we had to actually encourage women to get involved at the station—a time of burgeoning awareness of inequality of representation in places like CiTR. If the current state of the station is any indication, all of that outreach over the years paid off!
"Let's Talk…" is from 1983. "Hey all you womanfolk!" is from when Linda Scholten was our station manager, but it's hard to say when. If anyone knows who made these, let us know!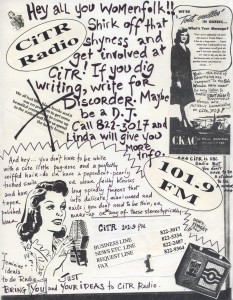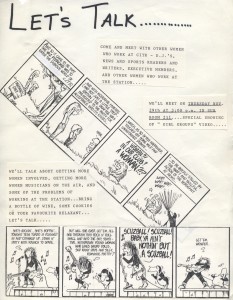 Check out our previous archive posts:
From the CITR Archives #1
From the CiTR Archives #2
From the CiTR Archives #3
From the CiTR Archives #4
From the CiTR Archives #5
From the CiTR Archives #6
From the CiTR Archives #7
From the CITR Archives #8
From the CITR Archives #9