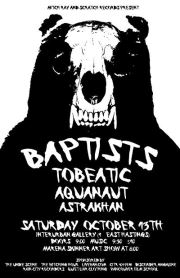 Two great shows going on this weekend at the Interurban Art Gallery, brought to you by Scratch Records, CiTR 101.9 FM, and Mitch Ray.
First, on Friday night, come down and catch Anciients, Witch Mountain, Castle, Blacked Out, and Wiser Fool. All ages, with a free art show by Marena Skinner at 7pm. More info here. Tickets $15 at the door or $13 in advance from Red Cat Records, Neptoon, Scrape, and Zulu.
Saturday, get prepared for a night of big sound and visceral savagery with Baptists, Tobeatic, Aquanaut, and Astrakhan. Clothing also on sale from Quiet Liar Clothing. The visual art being projected during the show features amazing projects and short films from Vancouver Film School. More info here. Tickets $10 at the door.