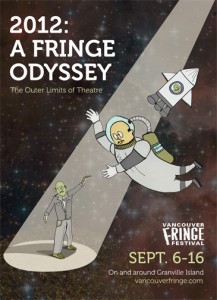 Our Arts Team is out seeing shows, are you? Just head down to Granville Island and pick a show, any show, you're almost guaranteed to see something fun/moving/unique. Or check out one of the many non-island venues all around the city as the Fringe Fest grows again this year.
Listen to our Live Broadcast from the Fringe!
The Vancouver Fringe Fest 2012 runs from September 6-16th on Granville Island and all around Vancouver. You can find out about the over 700 shows at www.vancouverfringe.com.
You can follow us on  twitter.com/CiTR_ArtsReport for quick opinions on the shows I and the arts team have seen.
Or, you can read some reviews right damn now after the jump!
From Maegan Thomas, Arts Director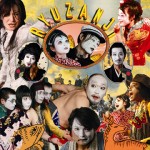 Thus far, Hanafuda Denki blew my mind on the levels of creativity, theatricality and pure delight. Way too much to process in one sitting, but in a good way. They have toured this show through Fringe Fests around the world, bringing both classic Japanese and Western theatrical elements together in fun and surprising ways.  And don't worry, if you don't speak Japanese, there are subtitles.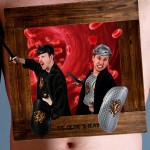 And Peter N' Chris Explore Their Bodies made me  laugh so hard, blowing my mind in terms of meta-  comedy, most characters by two men and on stage    sweat response. In a most amazing turn of  events,  there not one whiff of a gay joke in an hour of two  male comedians exploring their bodies (though less  surprisingly, Daddy issues played a strong part).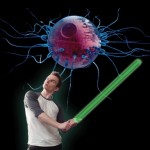 Like Peter N' Chris, Gametes and Gonads is physical theatre in the body, but with one less actor, no props and way more dick  and Star Wars/Trek  jokes. Don't expect anything more than the stereotypes you find in either space adventure, but that's not the point in a one man show about an army of the left testicle with a character called Randy Popoff.  Very entertaining, though not with the meta element that really comedy sing to me.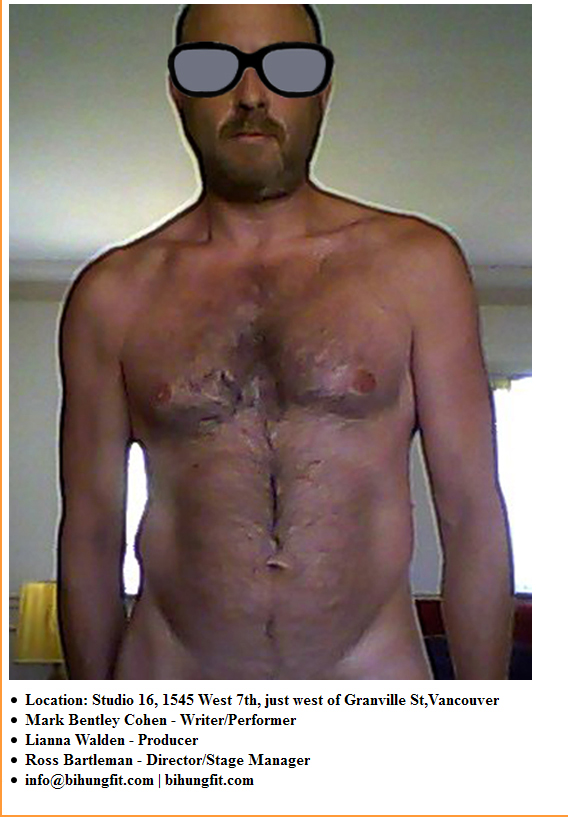 In Bi, Hung, Fit…and Married (left), Mark Cohen or "Marco" tells us a revealing, sexy, at times funny, at times poignant tale of how his marriage was saved from breakage with a little flexibility. Based on his yet unpublished memoir, s obviously a dynamic storyteller and a captivating communicator. Having spoken to him for This Fringey Life and at the Fringe, I know that his energy is barely containable – thus the few beats and moments that were missing as he moved from one chapter to the next. A well told, socially relevant story told by one man rather than a sweaty, physical one man "show."
The First Canadian President of the United States is a play by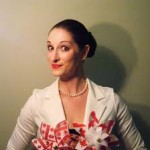 so you know you are going to get some amazing word play and strident political satire. And those qualities are in full effect as Kimberly White-White, President of United States of NORTH America, tells us how she moved from literally running away from being a political mistress to being a politician by being very good at not saying…anything at all.  However, the addition of a brain chip and a personality override was too much to take;  it distracted from the word play. In fact, while the words and performance were entertaining, Nancy McAlear gives Priscilla Yakielashek distractingly obvious direction.
Felony is not as much a play as a roving experience, one of those unique pieces the Fringe is known for. Be prepared to move quickly though because once you learn how to pick a pocket it gets a little hairy – expect the unexpected. A fantastic, creative show from the first second to the last – and SO illicit.
For more from CiTR on the Fringe Fest, check out our 6 episode series This Fringey Life.  Find out more about the Arts Report on the Arts Dept Page. Find extended interviews and special programming on our MixCloud.