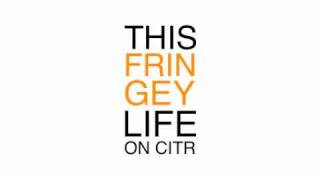 This Fringey Life, it's This American Life when the Arts Report and the Vancouver Fringe Fest get their hands on it! Each of the 6 episodes take a theme and use stories from the Vancouver Fringe to explore that theme: Space, Going Solo, True Lies, Fringe Love (&Sex), Perception and Life on the Fringe.
Most Recent episode:
In Episode 6, Tristan Koster talks to Fringe circuit regulars about their "Life on the Fringe." Every year, a contingent of artists in the Fringe travel with the festival across Canada and around the world. In this episode we meet some of these artists and hear their stories about traveling, audiences and the memorable moments that come from living on the Fringe.  From the Underbelly to a Suburban Motel, travelling Fringers share their secrets, including when it's a Bad Day To Be a Juggler.
Previous episodes:
Episode 1 takes on the theme of the 2012 Fringe Fest: "Space". Adam Janusz discusses the different meanings of space: Not only why the Fringe chose to put Jimmy in a space suit, but the actual space artists in the Fringe Onsite program use, and the inner space of Jayson McDonald's show, Underbelly.
Listen to Episode 1:  Space on MixCloud.
In Episode 2, Claire Eagle explores "Going Solo." From being alone on stage in a solo show with The Troubles, to investigating the portrayal of loss and loneliness on stage with the show ReLapse and finally,  or delving into what it's like to experience theatre alone and how the Fringe Escort Service may give you another option.
Listen to Episode 2: Going Solo on MixCloud.
In Episode 3, Ariel Fournier separates "Truth & Lies": from the secrets we keep to the lies we tell and why honesty may really be the best policy. Ariel talks to Travis Bernhadt, the magician behind the one-man show "Lies," Khalil Ashanti: one part of the play based on the successful blog and book series, PostSecret, and Megan Robinson & Sam Young who tell "Tales Told by Idiots."
Listen to Episode 3: Truth & Lies on MixCloud.
In Episode 4, Maegan Thomas exposes "Fringe Love (& Sex)": people getting their relationship on (among other things) at the Fringe; Mark Cohen's Bi, Hung, Fit…and Married about his bisexuality in a heterosexual marriage; and Cameryn Moore's Phone Whore follow up, slut (r)evolution.
Listen to Episode 4: Fringe Love (&Sex) on Mix Cloud.
Episode 5 investigates "Perception," including the many aspects and angles of perception and its aftermath.  Nicolle Cai talks to Tiffany Anderson about her one woman show Oddity and to Rob Slaerno about the First Day Back, about a 14-year-old boy's decision to end his own life as a result of the darkness that he had perceived in his world; and Brian Cochrane is here to talk about Home Free! a play written by Lanford Wilson in 1964.
Listen to Episode 5: Fringes of Perception on MixCloud.
Listen to the remaining episodes 3-6, and our Awards Show coverage Weds 6pm (after the Arts Report at 5pm). Find out more about the Arts Report on the Arts Dept Page.  Find extended interviews and special programming on our MixCloud.
The Vancouver Fringe Fest 2012 runs from September 6-16th on Granville Island and all around Vancouver. You can find out about the over 700 shows at www.vancouverfringe.com