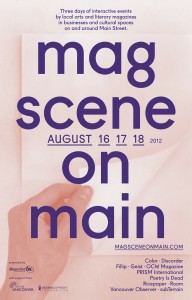 On this week's show we're talking Queer Film Festival goodies – Tran ÀPus Rex (TRx) will be talking about his gender bending (and beard and ice cream bending) performance at this year's opening gala at Fortune, and Katie Stewart talks about fear re: her film Queers In Canoes as part of the Coast is Queer series.
Live in studio will be Arts Report, Laurel, editor of Discorder, that magazine from CiTR, talks about Real Live Action, Discorder's photo showcase at MagScene on Main, Thursday August 16th.
Also joining us live is the wonderful Amanda from Megaphone Magazine to talk about the mag and their upcoming fundraiser thrown by Beekeeper (Devon of Beekeeper aka bkpr will also be in studio)!
Finally reviews by host Maegan Thomas of JobriathAD (VQFF) and Ticket to Paradise (Vancouver Latin American Film Festival).