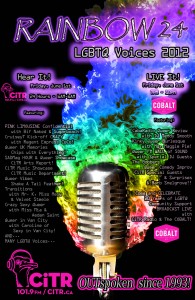 June 1st
Starting at 6 a.m. CiTR Radio paints the airwaves – rainbow!
Tune in to CiTR 101.9FM for a full 24 hours of Queer-centric programming airing and streaming on our live feed @ CiTR.ca. The day will feature music, interviews, discussions and live shows in association with our community partners.
This year's marathon features many LGBTQ musicians, DJs, entertainers, comedians, poets, filmmakers, political pundits and politicians. Voices on air will include Barb Snelgrove, Ryan Clayton, David C. Jones, DJ Lisa Delux, Jennifer Breakspear, Miss Meow, Spencer Chandra Herbert, Kate Reid, Dean Nelson, and many others including the hosts of CiTR programs CabaRadio, Shake A Tail Feather, Sexy in VanCity and The Arts Report. These voices will be delivering messages of hope, fun, warning and whimsy from across the rainbow spectrum! Hear a 'snapshot' of a rich community of voices only on CiTR 101.9FM Vancouver.
You can find the full schedule on our Special Broadcasts page.