CiTR is proud to sponsor the new weekly party CHOCOLATE MILK every Thursday at SHINE NIGHTCLUB, serving up some retro dance, RnB, classical house, indie dance & hip-hop! Featuring DJs G-Luve, Jay Douglas, Coleo, DJ T, and Mumbles, as well as CiTR's own David Love Jones.
Coming up at Chocolate Milk on May 24th, Gossip will be holding a listening party for their fifth album 'A Joyful Noise' from 10-11pm. Swing by to grab drink specials and hear some sweet music!
More info can be found on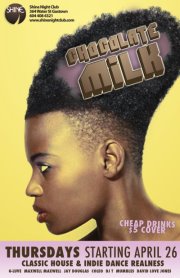 .