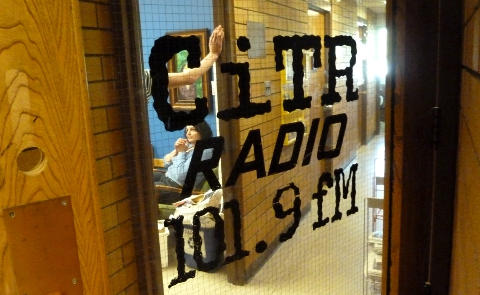 We are delighted to announce the CITR January Workshop Series. Debuting in 2012, we will host numerous workshops throughout the year that will provide the opportunity to learn more about a new area of interest, or broaden and enhance your current skills.
Workshops are free for CITR members. Non-members are welcome to sign up at the workshops, and the workshop will be included in the membership fee
Space is limited, and determined on a first come, first serve basis! Email Zoe (volunteer@citr.ca) to register.
_____________________________________________________________
Thursday, January 12, 2012, room 212a (SUB), 6:30 to 7:45PM
Discorder Workshop: How To Write A Review
with Gregory Adams
We've all been there before– someone asks you to describe your favourite band, and you come up empty. Everyone's got opinions, but we don't necessarily know how to express them.
Discorder editor Gregory Adams is ready to walk fledgling Discordians (or vets looking to brush up their skills) through the "do's" and "probably shouldn't do's" of writing reviews. Long story short, specifics are a must! One of the many goals of this workshop is to erase "very" and "nice" from your vocab.
Get the nitty-grit on how to pick up on crowd and performer details at shows, back up your statements and learn how to curb your reliance on direct band comparisons. Also covered will be a critics guide to handling criticism.
_____________________________________________________________
Wednesday, January 18, 2012, room 211 (SUB), 6:30 to 7:45PM
Telling Their Story: The Before, During and After an Interview
with Debby Reis
Anyone can have a conversation, but how do you turn your chat into a story worth publishing? In this workshop we'll go over preparing for an interview, the types of questions that work and that don't work, the tyranny of transcribing, and choosing quotes that build a story. We'll discuss Q&A style interviews versus story style, and we'll have a chance to practice by interviewing each other.
Debby Reis was Discorder's Production Manager for more than two years. She now sits on the editorial board for Geist magazine and is the Communications Director at the Vancouver Fringe Festival. She's interviewed numerous people, from artists and students to store owners and psychologists. Her most notable to date was Marc Emery, the self-styled "Prince of Pot."
______________________________________________________________
Thursday, January 19, 2012, CITR lounge (Room 233), 5:00 to 7:30PM
Live Broadcasting and Tech 101
with Evan French
This training session will attempt to familiarize people with the gear and procedures surrounding live broadcasts and live sound. We will look at both portable live broadcast mixers and larger format live music mixers and learn how these interact with microphones and feeds from other boards. We will also look at how to record and broadcast from your laptop via connection to the internet and how to get this signal on the air. The majority of these skills will be transferrable to any live sound or broadcast application. The gear we will be using is functionally similar to the majority of that which you would find in any venue/broadcast location.