On the CHRISTMAS show today…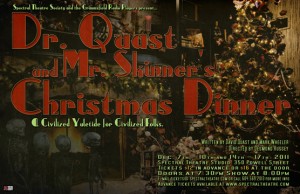 Dr. Quast and Mr. Skinner's Christmas Dinner: A Civilized Yuletide for Civilized Folk
Aside from winning our award for one of the longest title ever, this radio play feature from Spectral Theatre society that shows a christmas dinner tale that is less than civilized. Come meet Dr. Quast and Mr. Skinner, two best friends and well intentioned cannibals that run into the typical (or atypical?) troubles during a Christmas family dinner. Written by David Quast (if you enjoy this, there's a whole series about this meat-eating pair), the play features live sound engineered effects.
Happening from now until the 17th, check here for more dates!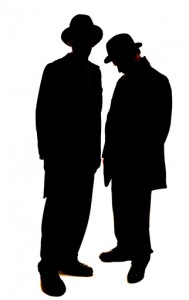 Waiting for Godot
Blackbird Theatre performs a rendition of the classic Waiting for Godot by Samuel Beckett. An comedic existential piece where everything or nothing at all happens with two men, Vladimir and Estragon, waits by a tree for Godot to appear. They're not sure whether today is the right day to meet him or if this is even the right place but they know that the meeting place is by a tree and the play elapses as they pass the time. Come for a good laugh and some slight thinking at The Cultch.
Playing from Dec. 27th to Jan. 21st, click here for more information.
Film Festival 4 Peace: Will the Real Terrorist Please Stand Up?
The 8th Annual Film Festival 4 Peace kicks off this Saturday through Sunday. One of the feature films this year is "Will the Real Terrorist Please Stand Up?" that is an in-depth documentary directed by Saul Landu into the US/CUBAN relations through a documentary on the Cuban 5. The Cuban 5 were spies that were sent to investigate the anti-Cuban, anti-Communist terrorist organization Miami about the several bombings in Havana. After finding evidence of the terrorism, the Cuban turned the information to the FBI and were in turn arrested and serving time while the confessed members of the terrorism group roam freely. This film illustrates the Cuban/US tensions from the 1960s until today.
Catch this film this weekend at the Britannia Community Centre along with guest Saul Landu, click here for more information.
Plus… if you're looking for a more traditional Christmas, check out A Dylan Thomas Christmas with Child's Christmas in Wales this Friday and Sunday by the Vancouver Chamber Choir.
Tune in today at 5PM!
Subscribe to the Arts Report podcast.
Hear past interviews on YouTube!
Follow us on Twitter.
Like us on Facebook!