On the show today…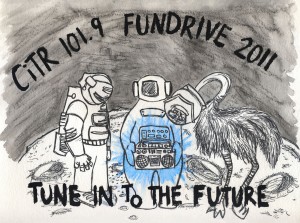 FUNDRIVE
Yes, we'll be fun-driving all through our show today so it would be incredibly and extremely awesome if our listeners could support us by donating towards our goal of $700 dollars. All the money goes towards bringing you the best arts and culture coverage for all of Vancouver and contributes to CiTR Radio's continual efforts in teaching you guys broadcasting skills and stuffs and airing epic tunes 24/7. Click here to donate to The Arts Report.
OR help us out by participating in our silent auction at our TUNE IN TO THE FUTURE FunDrive Finale where we have lots of great stuff to bid for.
Thanks everybody!
Tune in today at 5PM!
Subscribe to the Arts Report podcast.
Hear past interviews on YouTube!
Follow us on Twitter.
Like us on Facebook!