$12,603.20 is our running total this Wednesday morning!
Remember, if you want your amazing prize, call our amazing volunteers at 604 822 8648.
Don't have the time?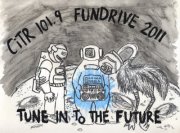 CiTR brings you amazing independent music, promotes local shows and events,  teaches media skills, provides the opportunity for ordinary folks to address the masses and  is a group of super attractive people who just want to help you achieve your dreams.
Donate now and then head to our Fundrive Finale to win more amazing prizes and see a billion bands for only $10 in advance, $12 at the door. Dress to impress (the people of the future).
CiTR – Tune into the Future.