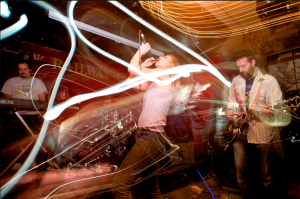 The first SHiNDiG semi-final battle will be on November 15, at its usual venue: The Railway Club. The first three winners – Real Boys, The Killed Spirits and Tyranahorse – will take over the stage to contest a space in the final.
SHiNDiG 2011 started on September 13 and the winner will be decided on December 6. The three top finalists will earn prizes, as well the audience – telling jokes for Granville Island beer, $10 gift certificates at Zulu Records, Mint CD samplers and CiTR T-shirts.
Bands:
Winner of the first week, Real Boys, is a Greater Vancouver indie band formed by Everett Morris, Drew Riekman, Stephen O'Shea and Liam Hamilton, all members of other bands: You Say Party!, Oh No! Yoko, GSTS!.
The Killed Spirits is a punk/hardcore/indie band formed in 2008 by Matty Chenier, Dave Hallman and Sean Kilby, guys who released their 12 tracks digital album on May, named Death and Langley.
Fronted by the singer PrOphecy Sun, Tyranahorse members include Darren Fleet, Brent Glasgow Brown, Max Stockholder and Jaro Welz. Tyranahorse is strongly influenced by 80's rock bands and the performance art of PrOphecy Sun.
SHiNDiG Semi-Final 1:
Railway Club – 579 Dunsmuir St.
Doors at 9 pm.
Tickets $8.