On today's show…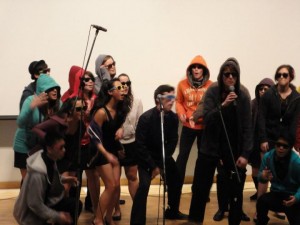 UBC Acapella Club
Looking for the UBC version of Glee? Try out for the UBC Acappella Club! With notable repetoire such as Don't Stop Believin' by Journey and Happy Ending by Mika, they have perform at local campus hotspots like the Gallery Lounge and the Norm Theatre. They've also shown off their vocal skills all around Vancouver like at HR MacMillan Space Centre and River Rock Casino! UBC Acappella Club also offers workshops for people who want to try and learn how to sing or for people who just want to have fun! Their upcoming workshop is Sept 15th at 6PM at Scarfe 100. On the air today, we have Sam Dabrusin and Christa Masson talk about their experiences with the club.
The Facebook Page for the workshop can be found here!
Vancouver Fringe: Yum/Yuck
As one of our own, Ingrid Nelson making theatre at UBC presents Yum/Yuck, a performance tucked away in a yoga studio that encapsulates the real yoga experience. As on billboards and advertisements, Yoga is depicted to be serene, quiet and balanced form of exercise but Ingrid Nelson as a yoga professional shows that yoga is not always what you think it may be. With extreme contortions mixed with bits of quiet reflection and lots of sweating, it really shows the Yum and Yuck sides of yoga. On the air we have Ingrid who will be talking about her show!
Playing from Sept 9-11, 16-18, more information here.
Vancouver Fringe: Rambo, The Missing Years
A riveting perspective on the Vietnam war, Howard Petrick writes and performs, Rambo: The Missing Years. In the past, Howard Petrick was a loud advocate opposing the Vietnam War when he was enlisted. Now he presents his experiences in twenty different characters from a teacher who lost his job for being against the war to the numerous soldiers hiding their opinions. Howard Petrick will join us today!
Playing from Sept 8, 10, 11, 15, 17, 18, look for tickets here.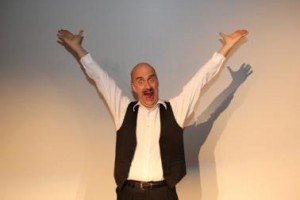 Arnie the Carnie's House of Fun!
Brian Anderson's Arnie the Carnie's House of Fun brings the audience in to a "festival of fabrication, deluge of deception, and landslide of lies" and instead divulges how to uncover liars and the secrets behind carnival tricks and games such as three-card monte. And of course, what is a carnival without crazy physical stunts and ragtime musical accompaniment? Today, Brian Anderson brings his jampacked fun to the show!
Playing from Sept 14, 15, 18th at Performance Works, check it out!
Tune in today at 5PM!
Subscribe to the Arts Report podcast.
Hear past interviews on YouTube!
Follow us on Twitter.
Like us on Facebook!