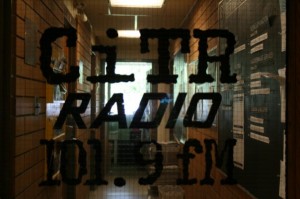 Ever wonder where a student of UBC or a member of the community might go to be trained up into a real life, on-air DJ? Ever stay up late at night asking yourself just how we store all the CDs and records that we have at our disposal? Do the words 'digitizing the library', 'DJ training program', and 'live broadcast' cause you to wonder? Or wake up early with the burning question: how does CiTR manage to be the best radio station in Vancouver?
Well, you're in luck because CiTR 101.9 FM is having an OPEN HOUSE next Friday, September 9th between 12 and 5 pm… AND YOU'RE INVITED.
Come on up  to room 233 in the SUB on UBC campus for snacks, station tours, live digital DJing and a chance to be on air! Learn all about your campus and community radio station wunderkind and ask all your heart desires about what we're all about.
So come to the open house: Sept. 9, 12-5pm.
Did we mention snacks?