Seven queer youth from QMUNITY's GAB program have been hired for a unique summer position — attending and broadcasting the 2011 GLISA North American OutGames. Neo Caines, Jazmine Khan, Jessi King, David Levitt, Calvin Ling, Jerek Starr, and Leroy Wan have been trained by CiTR staff and will join the CiTR 101.9FM OutGames team as certified radio broadcasters. The youth will also comprise the initial team for a new bimonthly radio collaboration between CiTR's QueerFM and QMUNITY called QueerFM QMUNITY. CiTR will be providing radio coverage of the 2011 GLISA North American OutGames from July 15 to 31, 2011.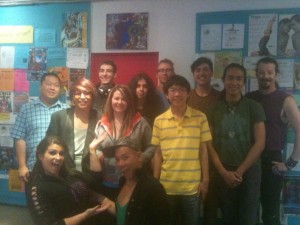 The youth selected were all participants in QMUNITY's GAB program. GAB, a safe space for queer youth and allies under twenty-five, offers weekly drop-in socials, workshops, and special events such as youth dances. It is one of the many programs offered by QMUNITY, BC's queer resource centre. The upcoming youth-driven QueerFM QMUNITY will provide youth from GAB with a space to interview leaders in the community, discuss social topics and share their musical tastes on the radio.
Jennifer Breakspear, executive director of QMUNITY had this to say about the project: "We are thrilled to take part in this exciting collaboration between QMUNITY and CiTR. The young people who take part in the QMUNITY Gab Youth program are talented innovative individuals who thrive with the support and guidance of passionate community leaders such as Aedan and Justin Saint. The CiTR OutGames Broadcast Project will support leadership and skills development for queer youth that is unlike any other opportunity currently available to them."
The OutGames broadcast teams composed of CiTR staff and queer youth will have the opportunity to interact with a fantastic list of human rights leaders, world-class athletes, performers and artists converging in Vancouver for a major LGBTQ event that happens once every four years. "It's an honor to continue the work started by Heather Kitching by not only raising awareness to LGBTQ news, issues, and artistic expression but by giving a voice to those with the most to say – LGBTQ youth," states Aedan Saint, CiTR Outgames Coordinator.
"The Vancouver 2011 Outgames are honoured to be able to assist in this amazing and original joint project that CiTR is doing with Qmunity and GAB Youth. To be able to take part in providing our LGTBQ youth the opportunity to learn valuable trade skills while showcasing the Outgames is truly the embodiment of community. CiTR and Qmunity are to be lauded for this inclusive initiative," states Barb Snelgrove, Communications Director for the Vancouver 2011 Outgames.
CiTR will provide a daily hour of highlights of the athletic competitions, the Human Rights Conference, and the cultural events that accompany the games, broadcasting live at various locations around Vancouver's LGBTQ centre, Davie Village. CiTR also plans to preempt its programming schedule to broadcast live at three events per day, totalling five or more hours of programming every day throughout the Games. The coverage will end with a party – a live broadcast float from CiTR, QueerFM, and the QMUNITY GAB Youth program in the 2011 Vancouver Pride Parade. The live broadcast will highlight the March of Athletes and will feature many local queer youth, artists and performers.